Novena for a Special Intention in Honor of Our Lady of America
From July 29 to August 6, 2020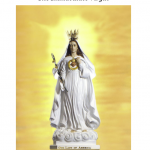 Abba Father,
In the Name of Jesus,
In the Unity, Power and Love of the Holy Spirit,
Under the Mantle of Mary,
With All the Angels and Saints,
Through the Intercession of The Servant of God Luisa Piccarreta,
the little daughter of the Divine Will
O Heavenly Father, may all Your children
who are today in desperate need,
receive the Abundant Graces, conversions and healings
necessary to fulfill
Our Lady of America's Mandate,
that the children of America bring Purity to the world.
O Jesus, may Your Grace Flow abundantly and Shower down
upon the hearts and minds of Your Bishops in the United States.
May Our Lady of America's Requests be carried out by them.
May the Bishops hold a solemn procession
of the statue of Our Lady of America
in the National Shrine of The Immaculate Conception,
Permanently Honoring Her there.
O Holy Spirit, one with little Luisa,
we have faith and believe firmly in Our Lady of America's Love
for us and for all.
We have confidence that She will Respond to our prayers Far Beyond all expectations.
We bring Her Bishops of the United States
and Her children of all nations to Her Feet in the Holy Divine Will.
O Triune God, Bless Your little children and Holy Mother the Church
by granting our petition,
this special intention in Honor of Our Lady of America.
May Your Holy Church and all the world
through Our Lady of America,
The Immaculate Virgin
Receive all the Graces and Promises we long for
in Thanksgiving for Our Holy Mother So Beloved.
"By Thy Holy and Immaculate Conception O Mary, deliver us from evil."
Please take our humble prayer and make it Your Command.
Let All be Accomplished and Completed in Your Most Holy Divine Will.
"Everything shall be Granted!" (V20 – 1.13.27)
WE BELIEVE! WE RECEIVE!
Fiat!
Amen!
So Be It!