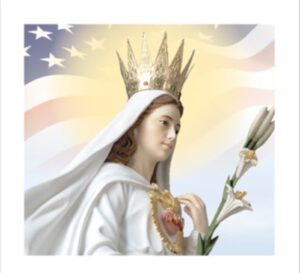 September 25, 26 and 27 are the Anniversary days of the first Apparitions of Our Lady of America, The Immaculate Virgin. Blessed souls throughout the United States are praying, in particular on September 26, original Feast of the North American Martyrs, to Our Lord and Our Lady for Abundant Graces, Blessings and Protection of our country, our families, the world, and especially Holy Mother Church.
Please click on the PDF link below for the document "Our Lady of America and the New Jerusalem."
Click this link for the booklet on the story of Our Lady of America, which also links to Cardinal Burke's
letter to the US Bishops on Our Lady of America:
May all be for the Glory of God and the Honor of Our Lady, Praying through the intercession of little daughter of the Divine Will, Luisa Piccarreta, Sister Mary Ephrem, Archbishop Leibold, the Holy Angels and Saints, in the Most Holy Divine Will!