PRAYER FOR BISHOPS AND PRIESTS
(Bishops and priests are praying this throughout the world)
LORD JESUS CHRIST,
SON OF THE FATHER,
SEND NOW YOUR SPIRIT OVER THE EARTH!
LET THE HOLY SPIRIT LIVE IN THE HEARTS OF ALL PEOPLES
THAT THEY MAY BE PRESERVED FROM
DEGENERATION, DISASTERS AND WAR.
MAY THE MOTHER OF ALL PEOPLES
THE BLESSED VIRGIN MARY
BE OUR ADVOCATE. AMEN
COMMAND PRAYER FOR OUR LADY THE NEW ARC
Abba Father
In the Name of Jesus
In the Power and Love of the Holy Spirit
Under the Mantle of Mary, Our Mother and Queen
with the Angels and Saints
Through the Intercession of the Servant of God Luisa Piccarreta, we pray:
May Our Lady of America's Requests be carried out,
that the Bishops of the United States hold a solemn procession
of the statue of Our Lady of America in the National Shrine of The Immaculate Conception,
Permanently Honoring Her there.
We have faith and believe firmly in Our Lady of America's Love for us and for all.
We have confidence that She will Respond Far Beyond all expectations.
One with Luisa, we bring Her Bishops of the United States
and Her children of all nations to Her Feet in the Holy Divine Will.
As the Generation of souls Proceed in Jesus, by the Holy Spirit
with Our Lady, The New Arc's 'Fiat' at the Incarnation,
may the faithful, little children of America,
through Luisa, daughter of the Supreme Volition,
give their 'Fiat' to All that Our Lord and Our Lady Wish.
May all souls lead pure lives,
in particular, the "Divine Purity" found in Luisa, the Cathedra of the Divine Will.
May this lead the world to Peace, the Peace of Christ
that He Brought with Him from Heaven.
May we Live Continuously in Your Holy Divine Will, linked with Luisa,
that You may give Proper Growth and Healing,
and Restore the Freshness, the Beauty, the Splendor to the whole Mystical Body.
May All be Given back the State of Origin, Nobility
and the Purpose for which mankind was Created.
Lord, Bless Your Holy Church
with the Triumph of
the Immaculate Heart of Mary.
May Your Holy Church and all the world
through Our Lady of America,
House of Gold, Seat of Wisdom,
receive Your Kingdom on earth as It is in Heaven.
"By Thy Holy and Immaculate Conception O Mary, deliver us from evil."
Please take our humble prayer and Make it Your Command!
"Everything shall be Granted!" (V20 – 1.13.27)
We Believe! We Receive!
FIAT!
AMEN!
SO BE IT!
 PRAYER FOR  THE SOLEMNITY OF PENTECOST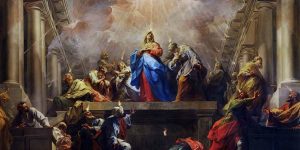 United with Our Blessed Mother Mary and our little mama Luisa
in the Cenacle on Mount Zion (1st Christian Church), 
we pray for a Great Outpouring of the Holy Spirit for the Second Pentecost
 to Start the New Era of the Third Fiat! 
O Most Holy Spirit, Omnipotent Breath of God, we, the little children of the Holy Divine Will, 
implore You to Blow the Breath of Your Spirit Continuously within us, 
Keeping us always Ignited and Consumed for Love of You.
We pray You to Light Your Divine Fire in our souls with One Continuous Breath that Keeps It always Lit.
Please Renew in us the Power of the Father, the Wisdom of the Son, and the Love of You, Holy Spirit. 
We pray that as You Invest us with Your Spirit, we may Acquire New Science, 
Invincible Strength, Ardent Love, so that a New Life may Flow within us, that shall render us Intrepid 
and Courageous for the Divine Glory of God and for the Salvation and Sanctification of all souls.
With Your Refreshing Breath, we beseech You to Rule over us and Confirm us in the Most Holy Divine Will.
Then with this Great Outpouring of Your Breath,
You Holy Spirit, shall Come and Renew the face of the earth.
Lord Jesus may this our humble prayer become Your Great Command.
Fiat! Amen! So Be It!
O Holy Mother of God and our Mother,
with little mama Luisa we pray You to let the Holy Spirit Descend into us, 
that He may Burn away all that does not belong to the Divine Will.
Pour Fire and Flames into our hearts, that They may Consume us, 
and Burn away all that is not Will of God.
Today, in honor of the Blessed Virgin Mary, one with little Luisa, let us recite Seven Glory Be's in Honor of the Holy Spirit, praying to Our Lady that His Prodigies may be Renewed over the Holy Church. – Virgin Mary in the Kingdom of the Divine Will from the prophecy of day 30
CONSECRATION PRAYER
TO MARY OUR CELESTIAL QUEEN,
OUR LADY OF THE DIVINE WILL
In Union with all the Bishops of the world, we, the little children of the Most Holy Divine Will, one with Luisa, on behalf of all souls, Re-consecrate ourselves,  offering our human wills to Mary our Celestial Queen, Our Lady of the Divine Will.
O Most Sweet Mama Mary, we, Your little children of the Holy Divine Will, present ourselves before You through Luisa, and prostrate at the Foot of Your Throne, Re-consecrate all human wills of all Countries, past, present and future. We Your little children Give You all our Filial Love, and as Your little children, we want to braid together all the little sacrifices, prayers, and promises of never doing our human wills. Forming a Crown for You, we want to place it on Your Lap as Proof of Love and Thanksgiving to You our Queen Mama.
But this is not enough; we want You to take all human wills and all our acts in Your Hands as a Sign that You Accept our gift, and at the Touch of Your Maternal Fingers Convert them into Many Suns, for at least as many times as we have tried to do the Divine Will in our little acts.
O, yes, Mother Queen, Your little children want to give You Homages of Light and of Most Refulgent Suns for all people in all countries of the world. We Know You have many of these Suns, but they are not the Suns of all Your little children; so through Luisa, we want to Give You ours, to tell You that we Love You, and to Bind You to Loving all Your little children. Holy Mama, You Smile at us and in All Goodness You accept our gifts; and we Thank You from our hearts in the name of everyone past, present and future. We want to tell You many things; we want to enclose all pains, fears, weaknesses, from every little child in Your Maternal Heart, as the Place of our Refuge.
O please, Queen Mama, accept all Your children through Luisa and the little children of the Divine Will. Make this Re-consecration a Triumph of Grace, and a Field upon which the Divine Will may Extend Its Kingdom! These human wills of ours, Re-consecrated to You, shall render all souls Inseparable from You and Your Son and shall keep us all in Continuous Relations with You and Jesus. The Doors of Heaven shall not be closed for us, because, Re-consecrating our human wills to You, You shall give us Yours in exchange. Therefore, either Mama shall come and stay with Her children on earth, or Her children shall go to Live with their Mama in Heaven. Oh, how Happy we all shall be!
O please listen, Dearest Mama, in order to Make the Re-consecration of our human wills and of all souls to You More Solemn, we call upon the Sacrosanct Trinity, all the Angels, and all the Saints.  Before all, we promise with this oath, in the name of everyone, in all countries past, present and future, our Solemn Re-consecration of all human wills to You our Celestial Mama.
O Sovereign Queen, as Fulfillment, we ask for Your Holy Blessing for ourselves and for everyone. May Your Blessing be the Celestial Dew that Descends upon sinners to Convert them, and upon the afflicted to Console them. May it Descend upon all Countries so the whole world be Transformed into Holiness; may it Descend upon the Purging souls and smother the Fire that Burns them. May Your Maternal Blessing be a Pledge of Salvation for all souls past present and future, and may It bring about the Kingdom of the Divine Will, through The Servant of God Luisa Piccarreta, on earth as It is in Heaven.
Lord Jesus may these our humble prayers become Your Great Commands.
WE BELIEVE! WE RECEIVE!
FIAT! Amen! So Be It!
PRAYER TO LUISA THROUGHOUT THE YEAR
O little daughter of the Divine Will, Servant of God Luisa Piccarreta, you have been Constituted by God as mother of all the little children of the Third Fiat (V21-3.19.27).  You bring the thoughts, gazes, words, movements, affections and desires of all people, past, present and future before the Divine Majesty within your own; repairing and impetrating for all Light, Grace and Love (V11-5.3.16). Our Lord Infused in you a share in Divinity, and so your Acts United with the Acts of Our Lord and Our Lady shall bring the Supreme Volition to Descend upon earth to carry out Its Life in the human generations (V15-2.16.23). Little mama Luisa, So Beautiful in the Sight of God (V4-7.28.02) you are Beautiful with the Specialties of Divine Qualities (V19-6.21.26). Through your Love and Acts the Kingdom of the Divine Will shall not remain in the air but Descend on earth as it is in Heaven. You are the Chosen One to obtain from God and for all souls what you have longed for with so much persistence (V19-9.13.26). The little children of the Divine Will have recourse to you, expecting God to make us Fresh and Beautiful, Just as Adam came out of His Creative Hands (V25-11.14.28). May everything be for the Greater Glory of God. May everything be for the spreading of the Knowledges of the Divine Truths. May everything be for the consolation of those who trust in you (V20-9.17.26).
We promise to pray for your glorification, making known favors granted through your intercession. All generations shall call you blessed (V13-11.21). As Our Lady sang your praises, we too sing your praises forever (V27 – 1.20.30).   Praying for our daily needs, we implore real miracles from you, in particular (intention…). Little mama Luisa, obtain these intentions for us, by the singular merits of your seventy years of sacrifice in bed in the Most Holy Divine Will (Arb. +Pichierri). Jesus Himself pierced your heart with a lance, crowned you with thorns and crucified you countless times (Vol.1). We come to you Luisa, being the Tabernacle of the Divine Will, Possessing Our Lord's Own Heaven on earth (V25-12.2.28). The Most Holy Trinity can deny you nothing, as It can deny nothing to Their Very Selves, Reigning in you (V27-1.16.30). Our Lord Jesus said of you, "See this soul – she is a Triumph of My Love; My Love has Surpassed Everything in her" (Vol 1).
Pray for us Servant of God Luisa Piccarreta, little daughter of the Divine Will, that the Divine Fiat may Return to Live upon Earth (V18-10.10.25). May we be shaken, open our eyes, and begin to know what it means to Live In the Divine Will (V14-7.10.22). Fiat! Amen! So Be It!